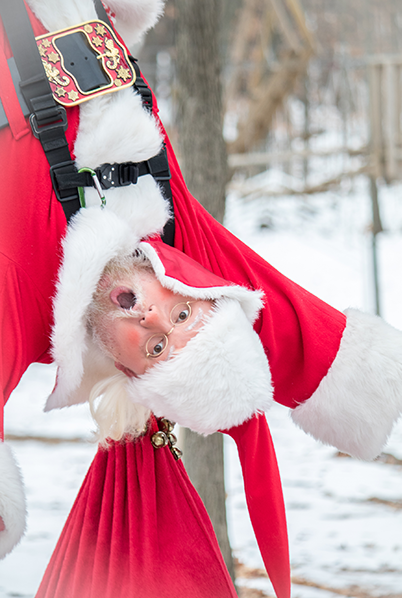 Meet The Timeless Santa, the jolly man who brings the magic of the North Pole to life. Formerly known as Santa Roger, he has recently undergone a name change to better showcase the unique services he offers and his commitment to blending modern techniques with timeless traditions. For over 14 years, The Timeless Santa has been delighting families, children, and adults at private home parties, community events, tree lightings, libraries, corporate gatherings, and professional photography sessions. With his warm personality and infectious smile, The Timeless Santa is the perfect choice for spreading holiday cheer and creating lasting memories.
The journey of The Timeless Santa as a Santa Claus performer began at a young age. At just five years old, he donned the red suit for his kindergarten class. The following year, he astounded his entire elementary school with his first magic show, seamlessly blending his two passions of magic and Santa Claus. Since then, The Timeless Santa has honed his skills as both a magician and a Santa performer, bringing his unique blend of magic and storytelling to captivate audiences young and old.
From enchanting stories about the North Pole to delightful tales of Mrs. Claus and the elves, The Timeless Santa breathes life into the magic of Christmas through his captivating performances. With the use of props and magical artifacts, he transports audiences into the enchanting world of Santa Claus, creating truly unforgettable experiences. Whether he's entertaining children at a holiday party or posing for pictures with families, The Timeless Santa is a consummate professional dedicated to spreading joy and cheer to all who have the pleasure of meeting him.
Professional Development & Training
Attending at least 2 Santa Schools, Trainings, Conventions, and Professional Development seminars every year is just one example of how seriously The Timeless Santa takes his role as Santa Claus. He is committed to continuously improving his portrayal and creating magical moments that families will cherish for years to come. His dedication to his craft shines through in every interaction he has with children and adults alike.
At these events, Santa Roger is able to learn from other experienced Santa Clauses, exchange ideas, and stay up-to-date on the latest trends in the industry. He takes pride in staying ahead of the curve, and this allows him to provide the best possible experience for his clients. Santa Roger believes that Santa Claus is a symbol of joy, hope, and love, and he wants to make sure that he portrays this spirit in the most authentic way possible.
When you book Santa Roger for your event, you can be assured that you are getting a highly skilled and professional Santa Claus. His commitment to his craft and his desire to create memorable experiences for families is evident in every visit he makes. Whether it's a corporate event, a home visit, or a studio photography session, Santa Roger's passion for bringing joy to others shines through in everything he does.